To switch between all tools within groups, add the Shift key to the letters above. For example, to switch between rectangular and elliptical marquee Draw Marquee from Center Alt-Marquee Add to a Selection Shift Subtract from a Selection Alt Intersection with a Selection Arrow Keys Move Selection in pixel Increments Ctrl-Shift-D Feather Selection Shift-F6 Move Marquee while drawing selection Hold Space while drawing marquee.
ADOBE PHOTOSHOP CS6 SHORTCUT KEY FOR WINDOWS
Fit on Screen Tab Hide all panels except Toolbox and Options bar Shift-Tab Rotate through full screen modes F Scroll image left or right in window Create new layer Ctrl-Shift-N Select non-contiguous layers Ctrl-Click layers Select contiguous layers Click one layer, then Shift-Click another layer Delete Layer Delete key while in the Move tool View contents of layer mask Alt-Click layer mask icon Temporarily turn off layer mask Shift-Click layer mask icon Clone layer as you move it Ctrl-[ or Ctrl-].
Select all text on layer Fill selection with background color Ctrl-Backspace Fill selection with foreground color Shift-Alt-Backspace Fill selection with source state in History panel Ctrl-Alt-Backspace Display Fill dialog box Shift-Backspace Sample as background color Number keys Change paint opacity with Airbrush ON Shift-Number keys Cross-Hair Cursor Shift-[ or Shift-] Switch between preset Brushes Alt-Eraser Cycle down or up through blend modes Create fixed color target from within a dialog box Shift-Click in image window Delete fixed color target Alt-Click on target with Color Sampler tool Create new spot-color channel from current selection Ctrl-Click on New Channel button in Channels panel.
To get Direct Selection tool while using Pen Ctrl-click on path name in Paths panel.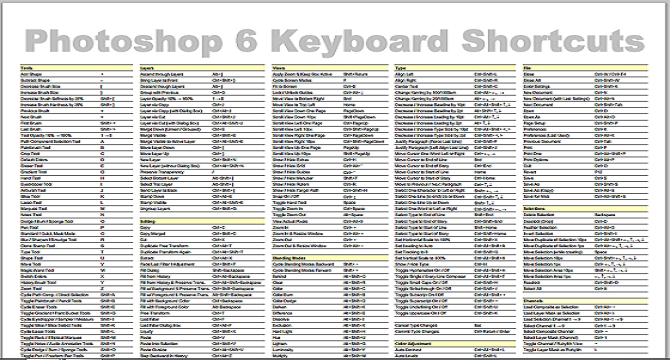 Alt-F9 Open Adobe Bridge Switch between open documents Ctrl-Tab Undo or Redo operations beyond last one Ctrl-Alt-F Hand Tool Spacebar Reset Dialog Box Hold Space while drawing Snap Guide to Ruler ticks Hold Control while dragging.